Grown strong and healthy in subtropical environment, Okinawan indigo plants become pure and clear dye by precipitation process in which harvested indigo leaves are soaked in water to extract pigment from its precipitation whose impurities are carefully removed.
There are mainly three kinds of Indigo cultivated in Okinawa: Tadeai which is well-known in the main island of Japan, Nambankomatsunagi grown in subtropical climate, and Ryukyuai which represents Okinawan dye.
"ryukyu i " is a group run by the Heshiki brothers with roots in Okinawa, and their family. The group has the two branches: ryukyu i in Iwate prefecture, and umenokoya in Shiga prefecture. Each branch uses the same Okinawan precipitated indigo for dying but has own unique style in designs and methods.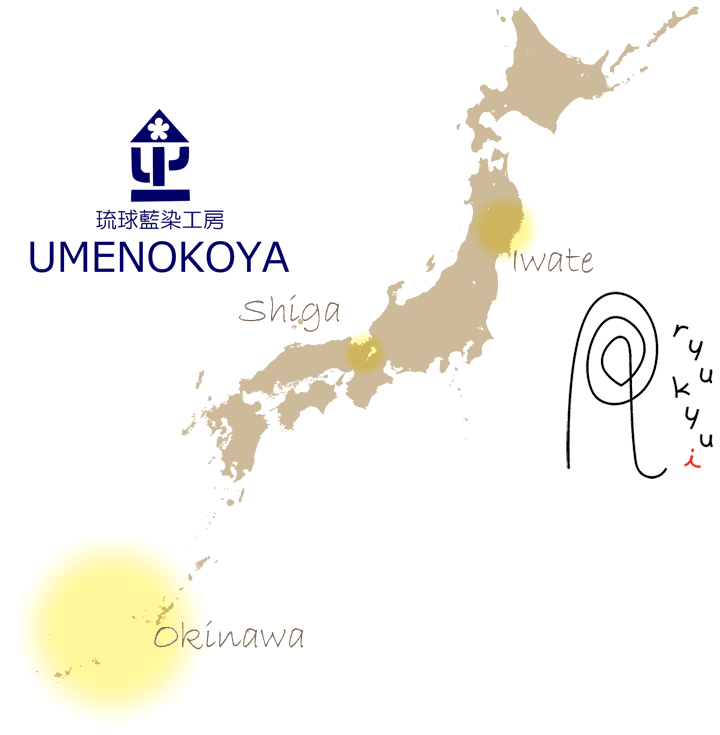 Born into a family of artists with a father that did stencil dyeing and a mother that tie-dyed using Ryukyu Natural Indigo dye, Yoshihiko from his early childhood was surrounded by the world of dye craftsmanship.
His works are known for their true-to-life realistic style, and he strives to create works that convey the feeling of flowing air.
When taking a break from his art, Yoshihiko enjoys snowboarding, and is actively involved as a snowboarding coach with the Ski Association of Japan.
Raised in the middle of Iwate's natural environment, Kumi's designs reflect this natural upbringing to fuse a sense of dynamism with innocent cuteness.
In 2007 she built a studio in the middle of her parents' farm, and has made this location the home base for her work. Her parent's pioneering spirit can be seen as the starting point for Kumi's style.
Brimming with curiosity, Kumi enjoys surfing, skiing, snowboarding and many other interests.